Album review: Jamie Cullum – Twentysomething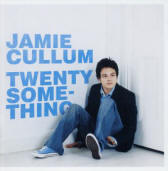 A few things to point out first: (a) This is not a jazz album in the unapproachable sense – there are Jimi Hendrix and Jeff Buckley covers here; (b) This is not some pet project funded by BBC's Michael Parkinson for some upstart he happens to like. This is a bona fide listenable and enjoyable opus.
Jamie Cullum is not your typical jazz pianist or singer. For one, he's far younger than mid-thirties, as suggested by the album's title. For another, he straddles genres for fun – this is certainly not a jazz-only album. And the end result is surprisingly great.
Opening with a Norah Jones-esque 'What A Difference A Day Made', Cullum lilts in an accented twang which is fast becoming trademark. Proceeding through a fantastically ornamented 'Singin' In The Rain', Cullum establishes his clear knack for arrangements. He proves his promising song writing calibre with the title track, an anthem for any 21st Century post-teenager. "Don't make me live for my Friday nights / drinking 8 pints and getting in fights", it could almost be a lyric by The Streets. And it's got a catchy piano riff to boot. Again it's not jazz in the traditional sense, it's just an indie song with a jazzy middle-section and some piano ornamentation.
Another highlight is 'I Could Have Danced All Night', opening with Cullum singing the bassline before the entry of groovy percussion. 'All At Sea' opens with a warm piano sound and has some smooth harmonic interludes, and 'Next Year, Baby' could easily have been called New Year's Resolutions for Dummies
– but 1 minute 47 seconds in, the samba edge enters in and your foot starts tapping involuntarily.
In terms of other covers, 'I Get A Kick Out Of You' is well-worked – here is a man who can swing old-style too. When he goes all Jimi Hendrix on his 'Wind Cries Mary', you're obliged to admit that Cullum's voice couldn't be more suitable. 'Lover, You Should Have Come Over', from Jeff Buckley's Grace, is a similar interpretation to the original but you find yourself willing him to try and jump that extra octave at the end of the chorus. Still, it's another song that otherwise fits his voice magnificently.
After the last chords and sax fade away from 'Next Year, Baby', bringing the work to a close, you will want to go back and listen to the title track again. And then you won't bother to turn the CD off again either. You will listen and you will like.
A promising debut from a bright young twenty something. Definitely worth investigation.