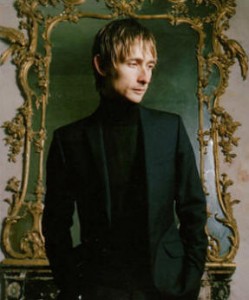 Review Snapshot: The Neil Hannon Show rolls into town for the final date in a week-long Irish tour with double-bass and accordion in tow.
The CLUAS Verdict? 8 out of 10
Before the show nobody was quite sure what to expect from Neil Hannon and his newly, slimmed-down Divine Comedy; it had only been a few months since a new album, Absent Friends, so nobody could accurately predict whether the setlist was going to comprise material largely derived thereof or whether this week-long, six-venue Irish tour could almost be classed as a Greatest Hits exercise.
Sean Needham provided much-appreciated opening duties for the assembling crowd, particularly pleasing and earnest with 'When Will We Be One', 'Life Goes On 'and the hugely amusing B-Side 'Single Blues' in his Damien Rice meets Christy Dignam style, and well he deserved to flog a few copies of his recent 'Loosely Based On A True Story' opus after the show to a crowd who seemed to warm to his guitar-assisted sincerity and passion.
Having been sufficiently warmed up by Needham the crowd turned to the main act who punctually took stage to an enthusiastic reception by the almost-packed Olympia [1]. And so to the music… and still nobody was sure of what exactly to expect, especially given the curious instrument mix chosen: double-bass and accordion accompanying Hannon's guitar and occasional piano. And the start, the first two tracks from Absent Friends (as stylistically proficient and entertaining as 'Come Home Billy Byrd (International Business Traveller)' was), still left the crowd none the wiser as to the band's motive. They didn't have to wait much longer to find out – next came 'Your Daddy's Car', greeted with telling applause – and the audience began to relax.
Hannon himself was in flying form, cheery and cracking well-received one-liners. Having taken to the stage with a pint of stout ("I'd like to thank Guinness… for this pint… and for the forthcoming sponsorship deal") instructed the crowd not to hesitate heckling. Fantastic idea, because it was through this dialogue that the crowd really began to thoroughly enjoy the occasion as well as just the music; and in terms of audience participation Hannon scored highly for an admittedly Graham Norton-inspired routine whereby everyone was made stand, and then allowed to sit whenever they owned a Divine Comedy album named by him – culminating in the lines, "You, madam, are you enjoying yourself?… Great, I'm delighted, now tomorrow buy one of the f**king records, ok?". Also well-received was the offer to share Hannon's second pint, which he rescinded because "I'm not Jesus… actually, wouldn't it be great if I WAS Jesus? …My Dad would be so proud of me."
Musically the performance was as solid and consistent as any of the band's eight albums; 'National Express' bringing the seated crowd to their feet and singing the chorus, 'The Happy Goth' causing some perhaps unusual light-heartedness in the audience, 'Everybody Knows (Except You)' earning great affection and – perhaps surprisingly but definitely pulled off – Queen of the Stone age's 'No One Knows', led by Hannon's crashing piano. The setlist ultimately became dispersed with tracks from Absent Friends (none of which really seemed to cause as much enthusiasm as 'Come Home…') sandwiching other favourites like 'Becoming More Like Alfie', the rousing 'National Express', 'Songs Of Love' and 'My Lovely Horse', and the closing 'Tonight We Fly'. As an encore the band chose breakthrough single 'Something For The Weekend' ("The chord that launched a career"), again bringing the crowd singing to their feet and, fittingly, their last single, 'Absent Friends', capping a great performance that earned the Divine Comedy trio much admiration on the night.
Perhaps the only gripe about the night was that the set lacked some of the band's other, more radio-friendly singles like 'Generation Sex', 'The Pop Singer's Fear Of The Pollen Count' and 'The Frog Princess', but this was only a minor glitch in retrospect and the newer material offered was still appreciatively lapped up. And for entertainment value – hell, if only for 'My Lovely Horse', Hannon & Co definitely earned their douze points.