Album review: Oasis – Don't Believe The Truth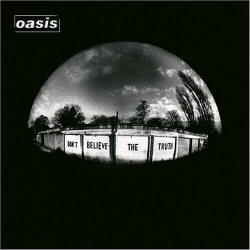 Review Snapshot: Sixth studio album from Manchester uber-deities. With the score for the brothers Gallagher tentatively weighted at two albums 'for' and three 'against', a band motto "we didn't have the songs" is losing credibility. Under attack, our heroes retreat to the studio living on borrowed time. Will Father Time catch up with them forever? Well, in short, no. Slightly muted and (shock horror!) acoustic fireworks ensue?
The Cluas Verdict: 7 out of 10.
There comes a time in every career by which an act can really be measured: the point at which they either evolve or don't. Take those bastallions of rock and/or roll, The Rolling Stones Incorporated, who have managed to remain credible purely by remaining creative and – well, let's face it – releasing music that doesn't quite sound like Ye Olde Rolling Stones. Throw in at the other end: James Brown, the man who at Live8 exposed himself as merely a caricature of himself. While the brothers Gallagher have long been, in a sense, caricatures of the rest of Madchester, Oasis have slipped into Brown territory. And they deserve better for soundtracking the 90s.
Oasis of 2005 are a different outfit to that which gave us the Greatest Hits (usually referred to as (What's The Story?) Morning Glory). Gone are Paul McGuigan on bass and Paul 'Bonehead' Arthurs on rhythm guitar; indeed, gone are both drummers that featured on the album, Tony McCarroll and Alan White. Modern Oasis is comprised of the Gallagher foundations but has the comparatively lavish rhythm section of Andy Bell ("not the Erasure one") and Gem Archer who fits so well that Noel even gives him some guitar solos. Oasis no longer employ a full-time drummer; Zak Starkey, son of Ringo, takes up most of the duties this time round.
But – and this is the funny bit – Oasis have hit something here. As the album kicks off with 'Turn Up The Sun' you know that there's been a shift in dynamic. The intro/outro teases you into believing that Oasis have mutated into Travis. 'Mucky Fingers' which follows is Noel's first vocal contribution where he sings for singing's sake and (shock!) enjoys it.
Lead single 'Lyla' is deceptively catchy and is, in that sense, a fitting natural evolution to the "Morning Glory era, but is added to purely by the knowledge after two albums and two spare tracks, Oasis have found form again. Then comes 'Love Like A Bomb', the first of Liam Gallagher's three compositions, and itself also an evolution of sorts – the track sounds like the mellowed out older brother of his previous pinnacle 'Songbird'; then follows second single 'The Importance Of Being Idle', an ode to the joys of not wanting to do anything and being happy with it. Semi-autobiographical? Tongue-in-cheek? Maybe.
The album, however, is stolen by two tracks, the first of which is 'Guess God Thinks I'm Abel'. Liam casts himself as the younger of the biblical siblings but forgets and forgives, realising that his ghost has nobody else to hang out with. "I could be wrong, but what am I to do?" It's Liam's most intimate revelation – so much so that the rest of the band are largely devoid of contribution until the last ten seconds.
The second is piano-led 'Let There Be Love', Noel mirroring this mellowing and delivers what is effectively a sequel to 'Stop Crying Your Heart Out'. It's the first time since Acquiesce that both brothers sing and whether it's the desired effect or not, you're left thinking that the decade of (public) animosity and the lingering memories of tours falling apart are just about gone. It's destined to soundtrack a memorably weepy TV moment but the song deserves – nay, needs – cataloguing somewhere in the public conscience. It has taken Noel most of Oasis' life to write but benefits from this fermenting as it weighs with a dozen years' emotion.
So it seems that finally the perennial excuse that Oasis "didn't have the songs" (" 1998 – 2005) has finally, then, been exorcised. Andy Bell notably improves with the superb 'Keep The Dream Alive', and Gem Archer contributes old-fashioned growl with 'A Bell Will Ring', far better in studio than at Glastonbury. Oasis have, you sense, grown up, and tried – successfully, at last – not to be Oasis from ten years ago. And what do you know, it's worked.
And thank Christ, because it would have been a real shame if they'd turned into a parody of the Oasis that you still like from 1994. Roll on the next album.