Album review: Autamata – Short Stories
To describe Autamata as a band is a tenuous statement – ok, yes, there are three members, but in essence Autamata are as much a band as The Streets, where for 'Skinner' read Ken McHugh, who plays a frankly scary list of instruments on Short Stories varying from guitar and ye olde piano to theremin, dulcimer and e-bow.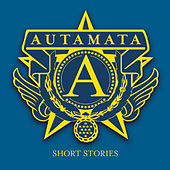 He's joined by Carol Keogh (generally found peddling her wares with Tycha Brahe, and sang on Autamata's debut album My Sanctuary) and newbie Sarah Verdon, who contributes to the songwriting and accordingly (largely) take turns to vocal duties.
The album itself is, a la most albums, difficult to describe without able to refer the reader to the music itself so perhaps it's best described as what The Chalets might sound like if they were brought up in a house with outer walls made entirely of corrugated iron but with lush, comfy, bright interiors. With Richard X producing. It's that kind of great album, horrible to have to reduce to words.
And it is a great album. From the opening 'I Spy' through 'Crazy' and the industrial-strength klump of 'Bring It On', past the effortlessly brilliant double-entendre laced 'Goldilocks', The OC-friendly single 'The Tap' – you are hereby challenged to listen to it and not to have it in your head an hour later – and to the euphoric 'Liberty Bell', it's an album that rarely fails to have head swaying and foot tapping, especially on the pseudo-disco stomper 'Summer's Son'.
The only real fault to the album is a tendency for over-elaboration in the instrumental intros and outros, which really detracts from the almost genius songwriting that's sandwiched in between. But it seems like nit-picking in the bigger face of things: Short Stories will happily find a place in any self-respecting album collection.
Just be warned: you'll need a great song to get Autumata out of your head.
Rating: 4/5