Book review: The Curious Incident of the Dog in the Nightdress by Paul Howard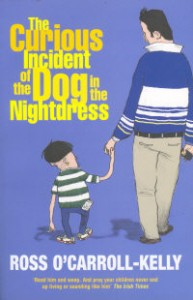 How do you begin to describe Ross O'Carroll-Kelly to a foreigner? It's a problem that's shown itself more than once in the online life of yourrs truly. When asked to explain your favourite series of books (I can hear the Potterphiles complaining already…) to someone who's never had to confront the caricature of affluent D4 life, you can only ever give a rough explanation that never does it justice. It's the typical 'it was funny, but you really had to be there' kind of scenario. That God that UCD is the very place that spawned and breeds this kind of stereotype, and I don't have to explain who Ross is. And who should have to? The man is a living legend, after all.
So to the book, then. Anyone who was expecting a Radiohead Kid A-style deviation from a successful formula is going to be gutted. The Curious Incident… is Paul Howard doing what Paul Howard did every other time. But you can't complain. The titular dog is the mother of Ross's newfound seven-year-old son Ronan and the book literaly starts off the day after the shambolic marriage to on-off squeeze Sorcha Lalor.
When Ronan features he steals the show; he's frankly the only character who's more of a caricature than Ross himself, at the charming age of seven going on twenty. Charming lad who's really worth his laughs.
Obviously I don't want to spoil the plot, save to say that there is a real emotional cliffhanger at the end of the book. Draw your own conclusions. But along the way, it's vintage Ross – only he could go to Tel Aviv and be shocked that the currency is actually called Shekels, and there's a fantastic incident involving a seal – and it's exactly what you want. It's just Ross being the Ross that we love.