Film review: Munich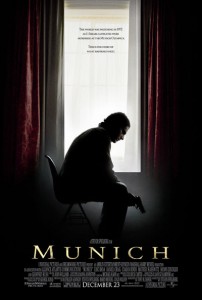 When it was first revealed that Steven Spielberg was mooting an adaptation of George Vonas' patchy novel Vengeance, the cinematic world wasn't quite sure how to react; either cinemagoers would be treated to another Jewish-based epic like Schindler's List or the offering would instead be a continuation of Mel Gibson's Passion genre of 'spinach cinema' (you don't really want to go and see it, but it's good for you all the same). The results look as if Hollywood's self-made money machine has tried to marry the two, but sadly the finality is that it's a little too much of the latter for comfort.
The movie tells the story of Avner Kaufman (Eric Bana – you remember him, he was Orlando Bloom's brother in Troy) who is hired by the Israeli Government to leave his heavily-pregnant wife and lead a team of civilian would-be assassins in order to trawl around Europe, in order to eliminate eleven Palestinian terrorists who had previously held eleven Israeli Olympians hostage at the 1972 Munich Olympics before killing them. Among the ensemble is Bond-in-waiting Daniel Craig, who gets some valuable experience working for a secret service in the feature.
The performance are sustaining and the movie does try to have something for everyone – a political commentary, a love story et al – and Spielberg does his brilliant best to turn the offering into a glamorous  70s spy tale (sending the crew to Rome, Paris, Athens, London and the less-glam Beirut). Indeed the 'climactic' (inverted commas because it doesn't seem so) flashback airport massacre scene, though gruesome, is one of the finest passages Spielberg has ever concocted.
The impression, though, is of a work that is probably worth seeing once but that doesn't enthral enough to demand a second viewing.
Rating: 3/5