Album review: Arctic Monkeys – Whatever People Say I Am, That's What I'm Not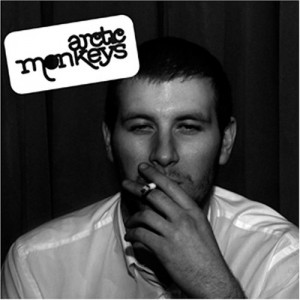 It surely isn't much of an understatement to say that the debut from this young Sheffield foursome was one of hte most eagerly awaited offerings of 2005 – it almost seems that the album appeared in January out of spite. Most of the songs on the contradictorily titled Whatever People Say I Am… have been floating about the internet as free demos given out by the band on their website. This in itself has been a cause of interest – and indeed admiration – in the band, that propelled their infectious debut single 'I Bet You Look Good On The Dancefloor' straight to No. 1 in the UK. The track is the standout on the offering but that's not to say it's the only potential single by any means. 'View from the Afternoon' is one such track.
By the closing 'A Certain Romance' (a brilliant summary in itself of the albums bipolarity) you know you're onto something a little bit special. A magnificent offering from Indie's Next Big Thing.
Sheffield lads surpass 'new Libertines' tag with effortless ease.
Rating: 5/5