Album review: Rubies – Explode from the Center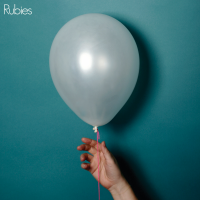 Review Snapshot: Swedish (we think) five-piece debut with a sound collection of works that – regretfully – seem too comfortable in their own skin to reach out and engage the listener in an anotherwise worthwhile listen.
The Cluas Verdict? 5.5 out of 10
Full Review:
Rubies are a five-piece built around the longstanding pair of Simone Rubi and Terri Loewenthal, and while all of their promotional material manages to avoid details of their geographical heritage, Rubies are as Swedish as Ikea – you know they're Swedish, but don't know exactly how you can distinguish it that way, it's just something you know.
'Explode from the Center' is a very solid and distinguished album, and doesn't at all sound like a debut. Whether this is a good thing or not is another matter – the album seems to lack the distinct, urgent freshness that classifies a great debut. Perhaps Rubies just aren't that kind of band.
Despite the synthesis, the album has a consistent sense of timelessness, ably sitting comfortably in mental images from late 80's warehouse raves to third millennium wine bars. The opening half of the nine-track opus is a promise of more energy to come; the latter, however, mostly disappoints, save for 'Diamonds on Fire', which hits stride with repetitive smacked guitar and muttered vocal riffs. Lyrically the strongest song of the album. "I could make it / so much easier on you / but it's hard, it's so hard", sing the band, before growing into lush counterpoint with comforting warmth.
Opening with light funk guitar, 'Room Without A Key' settling into a light Sia Furler-esque groove before hitting an 80's chord in the chorus, yet embellished with distinctly modernist vocal tweets, and smacks of a 4am red wine crash in a city centre shoebox, being followed by the lush acoustic and intimate synthesis of 'Too Bright'.
'Signs of Love''s Wurlitzer opening is reminiscent of Semisonic, and offers the first chance for Simone Rubi to really push her melodic chorales. "Lovin' each other 'til the end of Summer / into the Fall under we find another way / to stay inside our hearts" sings Rubi, with the kind of elegance that Morcheeba made an easy career from.
With a synth opening that Duran Duran could have relaunched with, lead single 'I Feel Electric' is made for a nightclub scene from an edgy independent drama (think Juno or the Sugar Rush TV series). A multiminded song, it ebbs, flows and glides its way through four and a half disco-tinged minutes with alarming invention and creativity, although sounding like a Casio keyboard's workout demo song once it settles in the middle eight.
Second single 'Stand In A Line' opens sounding like it was tailor-made for an Orange ad with summery streetscapes and gently syncopated beats, and then flirting with funky hip-hop before detouring into the slap bass identikit R&B you'd hear in a mental image of a Topshop. "Did you notice your mind's on fire?" asks Rubi during the hip-hop phase of this awkwardly adolescent opus – awkward in the sense that the song seems to take on phases just as arbitrarily as your average teen.
Elsewhere, 'Turquoise' opens with groggy plucking and settles into a sunburnt bop suspiciously like Bell x1's 'The Money' before discovering gospel at the end with blaring saxophone and searing vocal backup, while the closing couple of Silver Mornings (conjuring images of tamely driving down a straight country road with nothing to amuse on either side and only one tape for the stereo. "This is what it's like when it's lonesome at night", eh? Too right) and The Truth and the Lies bring the album to a muted close.  On the latter in particular, coming after eight songs desperate for a strum, when it comes it's misspent on lazy, Feist-y (sic) oozing without direction. If you were to play the album coming in at 4am, this one would lead to a steady slumber.
'Explode from the Center' is a work of real promise but is ultimately crippled by its comfort in its own skin and the absence of a desire to reach out and engage. A good album in that it's open for engagement, but not a great one without offering it in return.