Album review: Jape – Ritual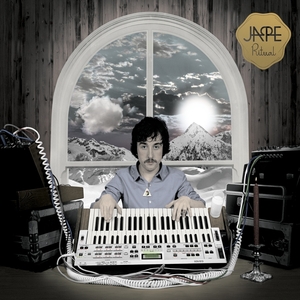 Review Snapshot: Things could have gotten very quiet for Jape in the last few years, but Ritual will be banishing any barren times for Richie Egan. Not a perfect album, but a magnificent one nonetheless. If music was food, Ritual would satisfy more tastes than most.
The Cluas Verdict? 8.5 out of 10
Full Review:
It's been four years since Richie 'Jape' Egan cemented his place amongst Ireland's new breed of gifted songwriters with second album, The Monkeys In The Zoo Have More Fun Than Me. In the meantime, with his third album nearing completion, he signed to V2, and promptly saw his new home go belly-up. The Monkeys…, meanwhile, bore fruit to 'Floating' covered by The Raconteurs, itself leading to more questioning of just where Egan would go next. Irish music might not have undergone any seismic changes in the last four years, but it's certainly taken enough detours where old dogs need to learn new tricks.
Put simply: if an album could have been custom-made to bridge this gap between notability and glory, Ritual wouldn't be very far off it, opening with a voice loop on Christopher And Anthony that wouldn't sound out of place on a Mylo album, before settling into a light, insightful and relaxed yet upbeat path.
I Was A Man, the album's lead single, opens with a memorable hook that could well have kicked off a chart-botherer but for the slightly obtuse instrumental later in the track. If it won't be bothering the charts you'll probably hear it soundtracking another short-lived sports series on RTE in the not-too-distant future. Replays, its sequel, a slightly grimy faux-future opus with a few too many repetitive High E synth taps pushing it too close to the boundaries of bearable.
The album then takes a turn into a slow-burning but gorgeous interlude duo. On Graveyard, Egan shows that while the previous songs are built on melody, his lyricism is worth an exposure too. "It's just a short, short distance from the nipple to the soil", he sings, over a lush, deep, layered euphony of minor synthesis. This lyrical strength then hits astonishing new high gears on Phil Lynott. In a truly seanachaí mode, Egan tells an initially acoustic story of a night at a gig under a lunar eclipse, as the rockers around him say "look / at / the / fuckin' / moon" in a staccato so perfect you can't help but be smug even listening to it. The mortality of the occasion hits him to the point where he realises, "One day I'll be a dead man / who plays the bass from Crumlin / like Phil Lynott" in an interlude of honest-to-God beauty. It says much about Jape's output that it's only on the word "Crumlin" that you're aware you're listening to domestic produce; you'd easily think you were listening to something that had been well-respected enough on the other side of the Atlantic to make the leap to these shores.
Streetwise is the spiritual start of Side B, with triadic vocals underpinning a electronic masterpiece of booming chords. The Hibernian references are kept up with tributes to Jackie's Army among others, before At The Heart Of All This Strangeness appears as a musical aberration; a sole acoustic guitar atoneing a beautiful, fragile melody augmented by silences placed to pinpoint perfection, as Egan is overwhelmed by how "there is nothing but hate in every dictionary" with gripping pathos.
The closing triplet almost echo the openers: Apple In An Orchard gets back into the form of the earlier tracks, with Egan borrowing from the Morrissey school of sing-as-you-think storytelling; Strike Me Down opens with another repetitive – but upspeed – synth hook leading into syncopated semiquavers in both vocals and score that sounds like a GameBoy on LSD; while Nothing Lasts Forever ends the album with a virtual scan of the radio channels before settling on a sibling track to Radiohead's All I Need. That the album produces similar opuses as In Rainbows is a tribute of which not much higher order could be paid.
In short – after a four year break where things could have gotten very quiet for Jape, Ritual will be making sure that the next couple of years will be busier for Richie Egan. A masterpiece, not quite; a potential Album Of The Year, very much so.